Several American homes have some form of air conditioning. But central air conditioners are the most popular due to their easy installation and ability to cool multiple rooms.
A central air conditioner is an excellent choice for homeowners in Vaughan who require convenient, whole-house cooling systems. But you may have worries about how to add central air conditioning to your home. Or the question is whether you can install it yourself.
The good news is you can install central air conditioning through DIY methods. To help you go, we've prepared the steps you need to add a central air conditioner to your HVAC.
How Central AC Works
Ductwork and registers (or vents) are the workhorses of a central air conditioning system. They're responsible for distributing conditioned air throughout a building. A central AC system draws ambient air from outside, cools it, and circulates it via the home ducts.
To add a central air conditioner to your HVAC, you may need to make some adjustments if your building doesn't already have adequate ducting. Ducting and other related expenses can increase the cost of installing a central air conditioner on your Vaughan property.
However, if you're changing an older AC unit to an updated and energy-saving one, you should notice a considerable improvement in your energy expenses.
Installing a new central air-con unit is an excellent investment for most households. This notion stands because new ACs barely use up to half as much energy to run compared to those manufactured ten years ago.
However, your energy expenses will be affected by the size of the system you choose. So it's vital to make an informed decision.
How to Independently Add Central Air Conditioning to Your HVAC
After purchasing your brand new air conditioner, the next step is set up. At this juncture, you're to pick a spot for installation, get the parts together, and charge the system with refrigerant.
The following are actions required in the installation steps: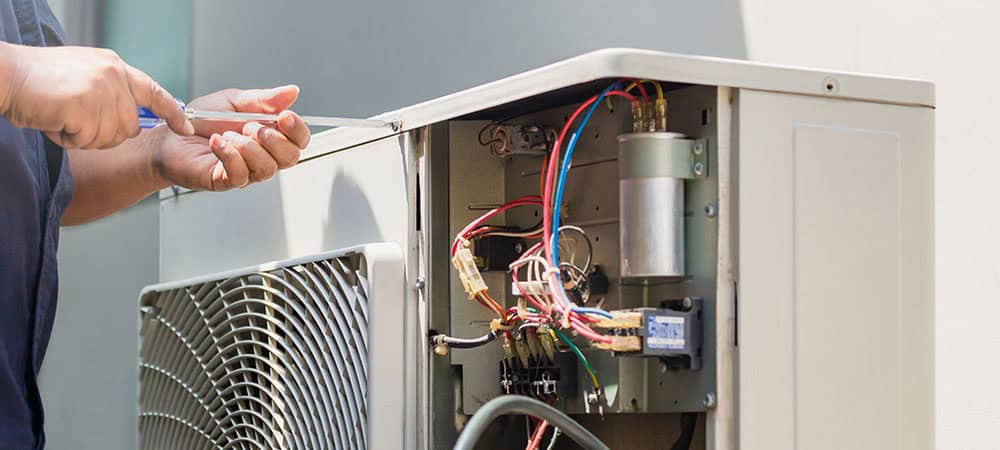 Where to Install the Unit
One thing is constant when you look to add central air conditioning to your home. The AC unit must be placed outdoors and linked to the ducting within the house.
Also, when setting up your new system, you have two options. You either create a concrete slab for it to sit or mount it on the roof.
A central AC system's ideal placement point is an area with sufficient airflow. Secondly, its placement must be intentional enough to avoid blockades and noise pollution.
Finally, your building's new central air conditioner must be easily accessible for maintenance and allow for correct positioning and wiring.
Energy Wastage Considerations
Your property may have pre-existing ductwork to hold your new AC unit. However, you should ensure it's appropriately sealed before installing the central air conditioner.
This double-check is essential because every bit of conditioned air escaping via the ducts translates to money down the drain.
Furthermore, you want to check for sags or bends in the ductwork as they can hamper the AC system's smooth operation.
Therefore, it may be necessary to not only access and inspect the crawl space. You may also need to remove any coverings and examine the ductwork.
Refrigerant Handling
Refrigerant handling is important if you want to replace an existing air conditioner. Also, this consideration is vital if there's a need to recycle the old unit's refrigerant.
We strongly advise against handling refrigerant evacuation from your air conditioner without the right expertise. Refrigerants can be volatile. Therefore, it's better to enlist a technician with requisite central air-con installation experience.
On the other hand, acquiring extra refrigerant may be unnecessary if you buy a new unit that comes pre-charged. However, if the unit is not correctly charged, you may run out of refrigerant just as you try to add the central air conditioning.
Syncing the Air Conditioner
AC system connection entails installing the unit in its designated spot and anchoring it. Sometimes, there may be some work to undertake inside the house. And this is dependent on the air conditioner's setup and whether you decide to replace the ductwork or the thermostat.
It's also essential that you:
Set up the correct refrigeration line length
Ensure the drain pipe is the appropriate length.
Hook up the thermostat
Flush out the pipes carrying the refrigerant
Make sure to add refrigerant to your new air conditioner if it hasn't already been done.
Ensure the wires are correctly connected.
Check if everything is working by doing a test.
At this point, this guide on how to install central air conditioning may be hazy for the average do-it-yourselfer. However, your new AC will come with an installation manual and schematics showing precisely where and how to connect each component. Although, basic familiarity with electricity and HVAC mechanics is essential to guarantee a smooth installation.
Post Installation
The next step is verifying the system's functionality post installation is complete. Start by turning on the central air-con and adjusting the thermostat to desired temperature settings.
Air should be moving through the ducting, and the compressor should produce sufficient cold air for comfort.
Common issues such as refrigerant leakage and poor electrical connection are a distant possibility. And this is regardless of the unit's proper functionality at first start. Therefore, the only way to guarantee long-lasting, energy-efficient installation is by enlisting expert assistance.
Maintaining Your Air Conditioner Over Time
Your brand-new air conditioner will eventually need routine maintenance and maybe even repairs. You can do the following to keep it in good working shape:
Frequent air filter checks and replacements.
Annual inspections of the evaporator coil and cleanings as needed
Removal of built-up debris
Checks for refrigerant leakage
Related Article: How Long Does It Take To Install an AC
Summary
It's not hard to add central air conditioning to your HVAC. You only need to decide and follow the earlier steps provided in this article.
However, as mentioned previously, the AC installation procedures can get pretty hazy. And it can have severe financial consequences if you get it wrong. Imagine spending all that money on a new central air conditioner unit and having to make repairs.
Therefore, you should seek professional help for your central air conditioner installation. And you don't have to stress about that because that's our point of expertise.
We at ALP Heating are renowned for our excellent air conditioner installation services. We'd love to help you with your central AC addition to your HVAC. Speak to us today!