The many benefits attached to using a natural gas line for your barbeque justify the cost of installation. Here, you will learn everything there is to know about the cost of installing a new gas line for a BBQ unit.
You will also discover the best BBQ gas line professional installation services to trust for such jobs. Here's what you need to know.
To Install a New Gas Line Call Or Email Us now:
Why Should I Use Natural Gas Lines for My Barbeque?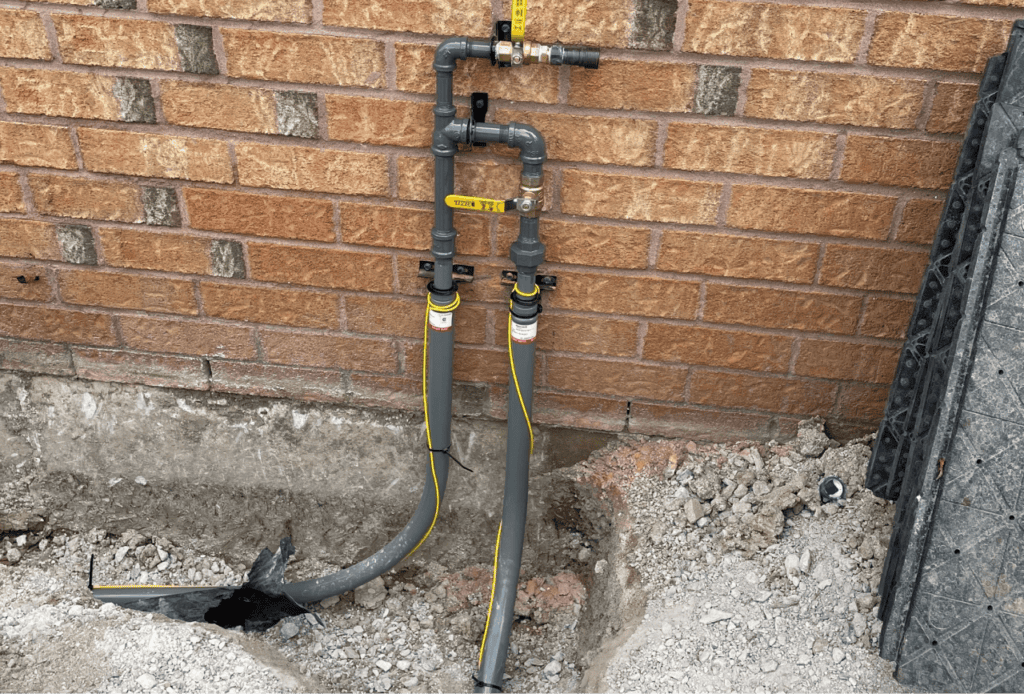 Before finding out about the price of installing a new gas line for a BBQ, you may be asking why you should use it in the first place. Before now, charcoal and propane barbeques dominated grilling. However, natural gas grilling has taken over, and it is not hard to see why.
Here are the benefits of this grilling method:
It is Convenient
With natural gas lines, you don't have to bother about propane running out while you are cooking. You are guaranteed a constant power supply during cooking, meaning you will never have half-cooked meals. You also save yourself the stress of hauling heavy tanks around to refill propane.
It is Portable
Natural gas lines allow you to grill anywhere within your yard. Hence, if you are having a party in the yard, you can grill in a favoured spot, so you don't miss a thing.
It is Safe
Natural gas is lighter than air. Hence, in the event of a leak, it will rise. This means there are no worries about gas build-ups in such scenarios.
It is Affordable
Besides being safer than propane, natural gas is cheaper than the former. Hence, when you pay the cost of a new gas line installation for BBQ, you'll end up saving money over time when you use it for grilling.
It is Clean
Natural gas burns cleaner than propane. Hence, you are less likely to have toxins in your food. You are also less likely to pollute the environment with dangerous gases.
The BBQ Gas Line Installation Process
Before you get a new gas line for your barbeque, there is a process you should follow. You should inspect your natural gas unit to ensure it can carry an additional gas device such as a BBQ. If your gas meter cannot do this, you have to reach out to your gas provider and inquire about upgrading the meter.
The gas line installation process begins with the installer turning the gas off at the gas meter. After that, natural gas line installation experts follow this stepwise procedure.
The installer installs a connect coupling on a wall outside your house. Piping is run from the main gas line situated in the basement to the connecting coupling.
To prevent leaks, the installer applies a compound around threaded connections. The new gas line is also fastened to the floor joists. This prevents it from interfering with anything within the floor while running out to the coupling.
The installer will also drill a hole through your wall. The purpose of the hole is to allow for coupling installation and line attachment.
The new line comes with a shutoff valve that allows you to shut it off and on while grilling. Two valves may be installed. One of them is installed outdoors, while the other is installed indoors. The installer also installs a fast-connect hose from the coupling. The hose allows you to hook your barbeque up easily.
Following the installation, there is a need for a pressure test to check for gas leaks. If the new line finds it difficult to hold pressure, there is likely a gas leak somewhere. To confirm this, installers spray a soapy solution in the threaded connections' vicinity. If the soap bubbles, it means there is a gas leak.
After checking for leaks and ensuring there are none, the installer will spray paint on the pipe. This action prevents the pipe from rusting. After spraying, the gas will be turned back on at the gas meter.
All you have to do is to hook your gas BBQ up to the newly installed coupling.
If you desire to have multiple grills or multiple spots to hook up your natural gas BBQ, you should ask your natural gas line installer about the possibility of installing numerous couplings.
If you wish for your barbeque to be moved around, you can also enquire about using extended gas hoses, which allow for such movements.
Factors Affecting the Cost of Installing New Gas Line for BBQ
During the installation of a natural gas line for your BBQ over other fuel sources, several factors can affect the costs you will incur. These include:
How much the additional line costs
Gas lines used for BBQ installations can be made from different materials. Common options include copper, plastic, stainless steel, or steel. Each of these materials has unique costs. Depending on the material used, you are likely to spend $25-$75 for each foot of line you use.
Hence, the farther the main gas line is from your house and primary grilling spot, the higher the installation cost. Besides the line length, the pipe size also affects the cost.
If the distance between your new appliance and the mainline is great, you may need a larger pipe to convey the right amount of gas to it. The greater the distance between the mainline and the appliance, the larger the pipe size needed.
If you use longer pipes for gas line installations, there is likely no need for a pressure test. Instead of running such a test, the installer will check for leaks using the soapy water solution. However, in situations where the line extends more than 20 feet, pressure tests are necessary. These tests add to the cost you will incur.
How difficult the installation process is
Another critical factor affecting the cost of installing a new gas line for a BBQ unit is the level of difficulty. The project may become more difficult if the installer has to overcome varying obstacles. An example is a situation where a pipe is to be run through your basement ceiling. Such a situation means the pipe will need several offsets.
If you have to change direction many times, it also requires more work. Offsets need pipe cutting, threading, fittings, and more hangers to make them stay in place. Hence, the quantity of offsets necessary for your project influences the cost of installation.
You may also want to run your line through a complex or inaccessible area. Examples of such difficult areas include beneath a deck or a crawlspace. If that is the case, you should expect the cost of installing your natural gas line for BBQ to be higher.
Another consideration to note is where the gas line will be situated. Its location influences the cost in more ways than one. You may desire it to go through your house, be placed outside, or even beneath the ground. Whatever your wishes are, the amount you will pay for installation increases with the difficulty involved in the process.
If you want extra appliances installed
If you need extra features or appliances added to your installed gas line, you have to pay more for installation. For example, you may want to have a fast-connect gas line. With such a gas line, you can safely and easily plug your BBQ in. The gas line also comes with a switch meaning gas won't be conveyed into the appliance when it is not being used.
It's possible to add extra appliances like a deck heater or fire table to your gas line. Such additional appliances will add to the cost of installing a new gas line for your BBQ. Adding such appliances requires the installation of larger gas lines.
How much a natural gas BBQ cost
You will need a natural gas barbeque for your new natural gas line. You shouldn't just use any old BBQ for your gas lines. It's best to buy new grills that are fit for natural gas.
The amount you will pay for new BBQs depends on the brand, type, and model. Basic models cost about $250-$1,500.
Larger BBQs or deluxe BBQs with multiple capabilities and features can cost as much as $5,000 or more. Whatever your budget is, you will find a BBQ fitting for it. Ensure it meets your specifications and is fit for natural gas.
Average Cost of Installing Gas Line for BBQ
The best method of estimating the cost of installing a new gas line for a BBQ is using the average prices you are likely to incur. That way, you will have a better idea and are well-prepared for the project.
Average cost of running a gas line
On average, it costs about $350-$750 to run gas lines. More complex projects can cost over a thousand dollars. If you want to install a new gas line, a gas line installation contractor will likely charge you $12-$75 per linear foot. This cost is dependent on the material used. It also includes labour, permits, and piping costs.
If you want to convert from an electric source to natural gas, you will require additional pipes. It is the same case if you're going to add appliances. The final cost you will incur depends on whether there are existing gas lines or new ones that are needed for the installation.
Costs incurred during gas line installation
If you want to install a gas line from the main gas line and throughout your house, you will spend between $1300-$1500.
These costs are dependent on the number of appliances you are using and the distance from the gas supply. The higher the number of appliances and the greater the distance, the higher the costs you'll incur.
Labour costs for gas line installation
When estimating the cost of installing a new gas line for BBQ, you should factor in the labour costs involved. On average, it costs about $2-$15 per linear foot for labour. These costs depend on the pipe diameter and the level of project difficulty.
Labour costs also depend on the contractor you hire for the job. Licensed installers in Vaughan charge higher than inexperienced or lesser-known contractors. Licensed contractors can charge between $40-$150 per hour to install new gas lines.
It is much better to hire licensed and professional installers to install your gas line. Professional gas line installation services guarantee you top-quality jobs. You are also assured of your safety when you eventually start to use the BBQ.
Cost of materials for gas line installation
Another cost consideration in gas line installation is the materials you need. Materials needed for installing gas lines cost between $1-$10 per piece. These materials include connectors, piping, mounting hardware, and fittings.
The prices for these materials depend on the type of material, diameter needed, the location the material is to be used in, and the number of turns.
Pipes are the key components in gas line installations. Different kinds of pipes are used for installation. Top options include polyvinyl chloride (PVC), corrugated stainless steel tubing (CCST), galvanized steel, copper, black iron, and high-density polyethylene (HDPE).
The most recommended gas pipes for gas line installation include black iron, galvanized steel, and CCSTq. CCST costs $2-$4 per linear foot while black iron costs $4-$5. Galvanized steel costs between $2-$9.
Copper, HDPE, and PVC gas pipes are more affordable. Copper costs $1-$3 per linear foot, while HDPE costs about $1. PVC costs between $0.5 to $2 per linear foot.
Other cost factors
Some other things that can influence the cost of installing a new gas line for BBQ include:
Required permits, which cost between $40 to $350.
Yearly gas system inspections, which cost $80-$150 for each assessment.
Trenching, which costs between $3-$15 per linear foot.
Project complexities.
Can I Install Gas Lines for the BBQ Myself?
If you are untrained in gas line installation, you must avoid installing it yourself. Gas line installation or repair is dangerous. You are dealing with natural gas, which is highly combustible.
Any connection error, and you risk your life and that of others. Gas explosions are deadly and lead to wide-radius damage.
Don't try to cut costs by performing the installation yourself. Instead, leave it to licensed gas line installation services experienced in such jobs. Always ensure you hire the best service providers and not quacks who will do a shoddy job.
What Should I Look Out for When Hiring a Gas Line Installer?
Before hiring a professional service to undertake your gas line installation, you should ensure they tick the following boxes:
They are licensed and have insurance coverage.
They are qualified to operate in your region.
They offer you a warranty or guarantees.
Their certification covers your project type.
Will they take charge of local permits or leave them for you to handle?
You should also take the time to review the company online. Check to see that they have good customer reviews and good ratings.
FAQs About The Cost Of Installing New Gas Line
How much will a gas line for BBQ cost?
The average cost of installing a new gas line for your barbeque is about $12 to $75 per foot. I'm total, to run a gas line, you will spend about $350 to $750 on average.
Who will install my gas line for BBQ?
Certified or licensed gas line installation services with professional installers are the best bet for installing gas lines. Don't attempt the installation yourself, unless you are licensed to do so.
How much does a gas BBQ cost?
On average, it costs about $250 to buy a gas BBQ. More complex BBQ grills with additional features cost about $5,000 or more.
Conclusion
Having reached this point, you should know all about the cost of installing a new gas line for BBQ. Firstly, it's good to understand the BBQ gas line installation process. This way, you can have a better understanding of what goes into the cost.
Another thing to do is research and find out the average cost of installing gas lines in your area. Based on that estimate, you'll have a better idea of how much you'll spend to install it.
Finally, never install the gas line by yourself. Leave it to trained and certified services. Ensure you hire only professionals with expertise for your projects.
To ensure you get only the best, contact our gas line installation services to do a perfect job for you. Here at ALP Heating, our technicians are highly trained to deliver safe, affordable, and long-lasting gas line installation services. Contact us today!